The Classics with a Twist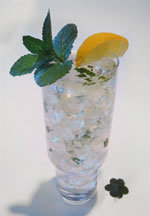 Southside
2 sprigs fresh mint
¾ oz. fresh-squeezed lemon juice
1½ oz. gin
1 oz. Paula's Texas Lemon
1½ oz. well-chilled club soda (optional)

Gently muddle 1 of the mint sprigs with the lemon juice in the bottom of a mixing glass. Add the gin and PTL and shake well. Pour over crushed ice in a goblet and stir until the outside of the glass frosts. Top with a splash of soda--up to 1½ ounces, to taste--and garnish with the other sprig of mint.