Drink of the Month

Paula Smash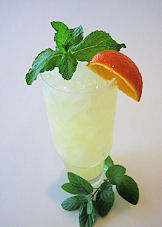 Recipe by Mike Martensen
The Cedars Social


A smash is a variation on a julep, famously known for using mint, which is plentiful around Austin in spring. Mike came up with this recipe to accentuate the bright orange flavor of PTO against the mint.

2 oz. PTO
1 oz. lemon juice
1 oz. simple syrup
2 dashes Angostura bitters
6 large mint leaves
In a mixing glass, gently muddle mint with simple syrup. Add PTO, lemon juice, bitters, and ice. Shake and strain into a collins glass filled with crushed ice. Garnish with mint sprig.
Paula on TV's Drinking Made Easy
Zane Lamprey checked out Paula's distillery in the
Austin episode of Drinking Made Easy
. Hey folks, it was 10 a.m., and I was supposed to be chipper next to this comedian. Notice at the beginning I look like a disgruntled kindergarden teacher but progressively lighten up after a few sips of PTO. Wait for the Paula's Punch at the end.
Drinking Made Easy with Paula's Texas Spirits, Austin, TX
Texas spirits get media attention