AUSTIN MOONSHINE


Compliments of Andrew Perez,
Moonshine Grill, Austin

This drink is too smooth to qualify as moonshine, but if you're not careful, it could make you crazy like moonshine....

1.5 oz. Treaty Oak Rum

1 oz. Paula's Texas Lemon
2 lemon wedges

4 large mint leaves
Fresh lemonade
POM pomegranate juice
Grapefruit juice (optional)

Muddle* lemon wedges, mint, Treaty Oak rum, and Paula's Texas Lemon in a tall glass. Fill glass with ice. Add a generous splash of POM and optional dash of grapefruit juice. Top off with lemonade. Garnish with a mint sprig.

* What is muddling? Simply mashing, or crushing, the fruit and herbs with a pestle or wooden spoon to release the flavors.

LONGHORN GINEOUS

Here's one to toast your "genius" of a graduate.

3 oz. gin

1 oz. Paula's Texas Orange

Splash of Extra Dry Martini & Rossi vermouth

Shake ingredients with ice and strain into a martini glass.

Thanks to Jari Palvola, a Finnish transplant who knows his liquor!


APPLES 'N' ORANGES FIZZ


This is a GREAT drink for parties. It is light and refreshing and goes a long way. Make up a big pitcher for guests to serve themselves.
Mix ingredients and serve over ice in a tall glass.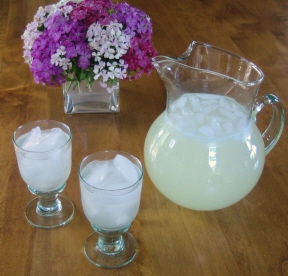 Don't forget Paula's Texas Orange and Paula's Texas Lemon make a great gift or hostess gift! Look for our two-pack gift set at selected liquor stores around town.