Drink of the Month

Paula's Manhattan Punch
We created this drink to serve at retro-chic parties inspired by Mad Men. Personally, we like to curl up with a Manhattan while we watch Don Draper's antics, but we were looking for something a little less boozy for all-night socializing.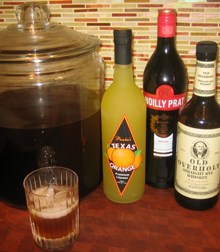 Manhattan Punch
This recipe creates a gallon and a half of punch, enough to fill that groovy punch bowl you've been dying to use. You can keep it cool with a large block of ice, but it doesn't need to be overchilled. Our favorite flavor profile comes from using Old Overholt rye and Noilly Prat red vermouth.
1 750ml bottle Paula's Texas Orange
2 750 ml bottles rye whiskey
2 750 ml bottles red vermouth
72 oz. black tea
Combine ingredients in a punch bowl and serve in small glasses.
Campari Orange
On a recent visit to Tuscany, we noticed Campari Orange on the blackboards at small bars, a combination of orange juice and the bitter Campari liqueur. For the Italian-themed La Dolce Vita festival, we created our own (superior) version of this drink.
1½ oz. Paula's Texas Orange
4 oz.club soda
Fill a small tumbler with ice. Pour ingredients over ice and stir.